Career Pathway Certification
Remote Professional Freelancer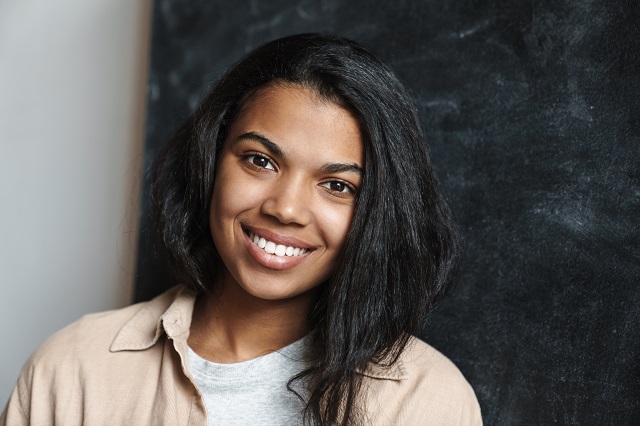 "I enrolled in the Remote Working Professional Course and earn my industry certification because I wanted to give myself more career options and open new paths for my family. I know working remote professionals typically earn more and have flexibility in choosing where to live, and their careers are less likely to be negatively affected due to pandemics or economic swings. I love how I could complete the course on my computer, tablet, and phone."
—Lauren F, Remote Working Professional
What to expect
Our focus is on preparing you to become a successful remote freelancer. Your journey begins with the entire Remote Working Professional course. In the following Remote Professional Freelancer module, you concentrate on the concepts essential and unique for the "Solopreneurs," who are the growing ranks of global professionals freelancing remotely. Bonus Modules round out your experience and give us one last chance to help you learn from our cadre of experts.
Last but not least, you receive your Remote Professional Freelancer Certification endorsed by WebProfessionals.org.
Welcome to Our Community
"WebProfessionals.org is proud to back this one-of-a-kind industry certification for remote working professionals around the world. We know that the world of work is changing, and we are excited to help usher in new generations of remote workers in all industries who represent the future of the global remote workforce."
—Mark DuBois, Executive Director, WebProfessionals.org
Earning a Certification Backed by Industry
This Remote Working Professional international industry-recognized certification (IIRC) is backed by WebProfessionals.org, the industry association made up of members who create, build, maintain, support, and run the companies that utilize the internet and mobile apps. No matter what profession you are in, the members of WebProfessionals.org have created tools that you use on a daily basis.
This course is for anyone in any industry who works remotely or wants to work remotely—graphic designers, web developers, insurance agents, customer service representatives, language translators, book editors, salespeople, and students who want to prepare to excel in the new remote work world.
When you complete this course and earn your certification, you have shown the world that you have gained knowledge, met industry standards, and earned professional credentials demonstrating you are prepared for a career in remote work. When equipped with this unique certification, you will be ready to thrive in the remote work world and separate yourself from the crowd, no matter where your career path takes you. Welcome—you are one of us.
Learn From the Experts
The creators of the courses have been working remotely for decades. We understand the pros and cons, ups and downs, and overall challenges of working remotely. Working remotely has massive benefits that can greatly enrich your life and help you achieve the optimal work-life balance. However, this course isn't just about our views—we feature video interviews with people in a variety of industries who have worked remotely for years and share their top tips and tricks to prepare you to become a successful remote worker.
Whether you are a corporate employee who works at home, someone who is transitioning to a new remote work career, or a freelancer who works in coffee shops, you can learn the skills needed to flourish in a remote career.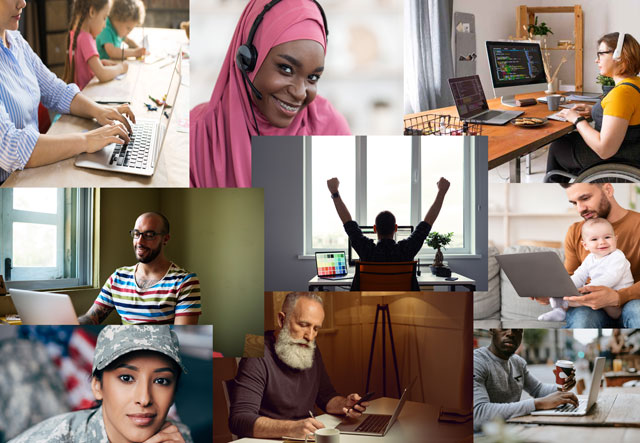 What will your journey look like?
Below are the steps you will take to transform yourself into a remote working professional.

Step 1 – Build Your Foundation
The remote working professional course is the base set of skills and knowledge to prepare you to earn your Remote Working Professional Certification. This tells the world you understand what it takes to succeed in the new world of remote work. This path is ideal for all individuals working from home or looking forward to finding the perfect opportunity and benefit from working remotely.
Step 2 – Remote Professional Freelancer
Remote Professional Freelancer module, you concentrate on the concepts essential and unique for the "Solopreneurs,"
Step 3 – Earn Your Certification
Obtain proof of your certification by downloading your professional certificate and show the world you are ready to succeed in the new remote work world. Then add this registered credential to your resume, CV or showcase it in your profiles on your Facebook page or professional sites like LinkedIn, Xing, Jobcase, or Sumry.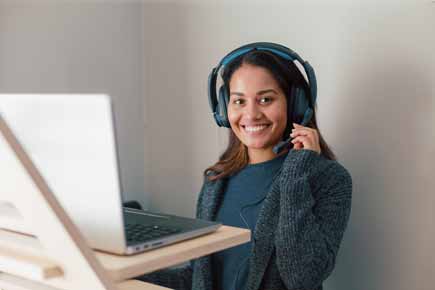 Step 3 – Learn How to Ace the Interview
Now that you have gone through training to earn your certification, it is time to learn how to ace your job interview. 92% of people say they get nervous about interviewing—and we can help if you are in that group. Whether you are looking for a promotion, a new job, or are transitioning to a new career field, this course will help you prepare and craft your answers to some of the interview questions most common in an interview for a remote position or promotion. We worked with remote working professionals who are team managers, business owners, and recruiters to learn what they look for in potential hires. Learn how important delivery is and strategies you can use to deliver your answers authentically and naturally, even when interviewing with someone wh thousands of miles away.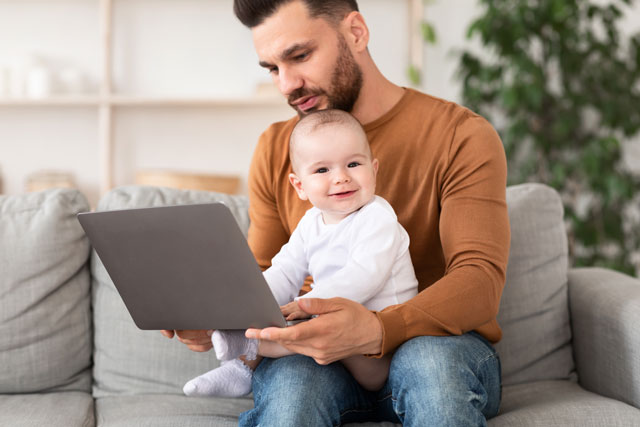 Step 4 – Bonus Features
Listen in and enjoy candid conversations with remote working pros, freelancers, managers, and our course authors as they talk about good times remote working, bad times, and funny times.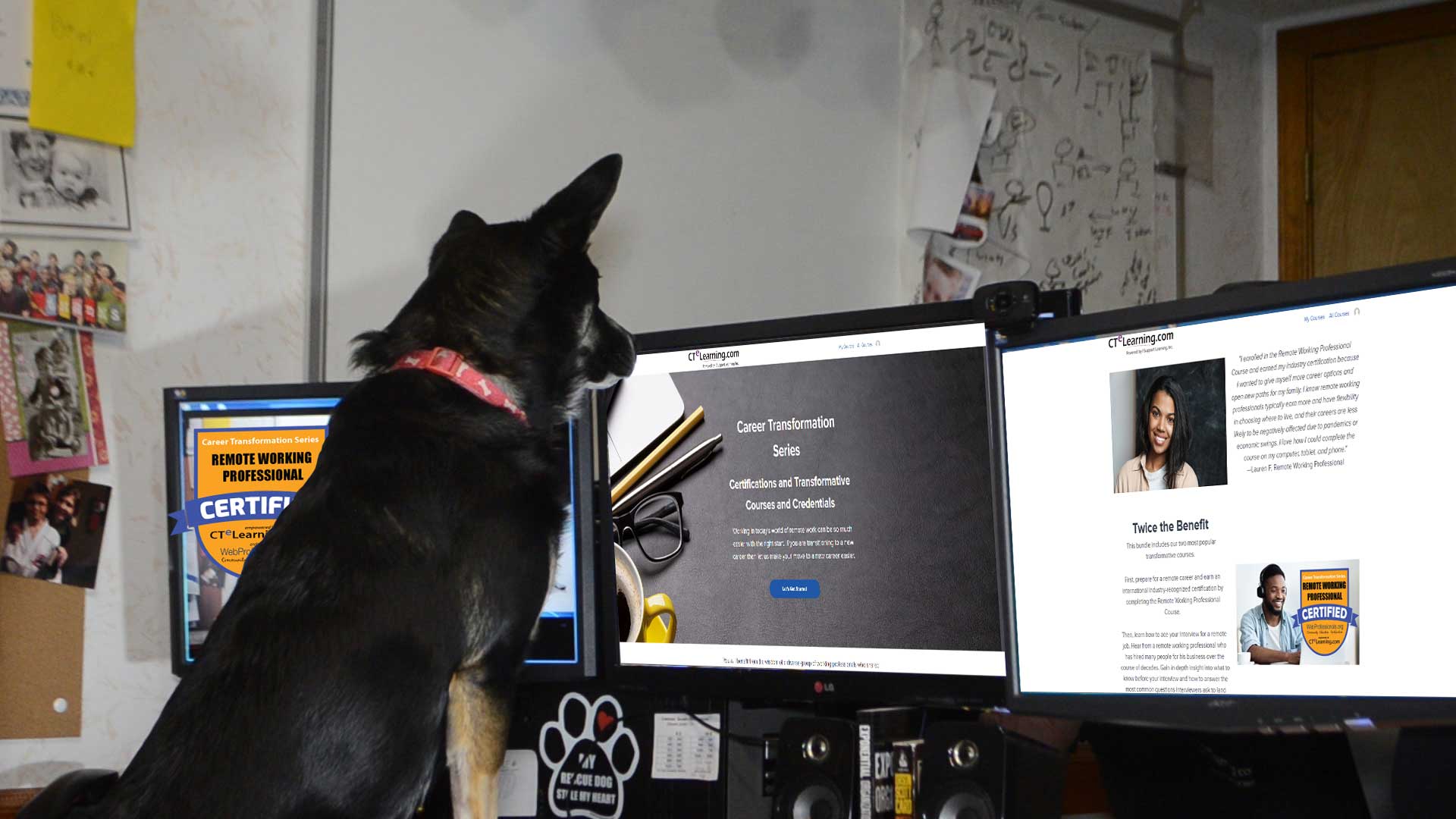 All Paws on Deck
The final push is on. Our core development team and the dozens of remote professionals who have helped with interviews and content have made this all happen in record time.
After months of intense development, the foundation of our new Career Transformation Series training – Remote Working Professional Pathway with Certification was released in February 2021.
Later this Spring, we will bring our following pathway courses online. The Remote Professional Freelancer Pathway and the Remote Professional Manager Pathway courses will complete our Career Transformation Series' initial trinity.
Over the next few weeks, you will see us proudly remove any Coming Spring 2021 as we allow access to these pathways in final development and testing.